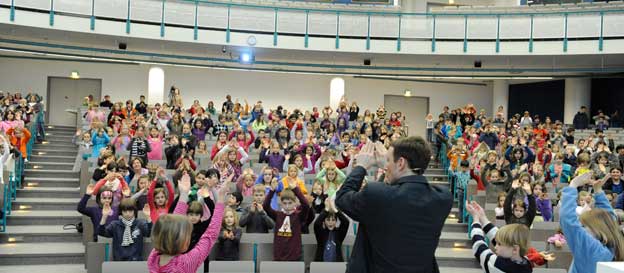 The Kids' Music University of the School of Music
We will be continuing our Kids' Music University concept that was successfully inaugurated last year. Professor Felix Koch and selected students of the School of Music will be presenting a series of three lectures, in which they will taking the children with them on a fascinating journey through the sounds of different epochs and continents! This year, the young scholars will follow Don Quixote on a (musical) adventure, learn how to express feelings with the voice and discover how to make music without notes.
Accompanying workshops for elementary school teachers
The Kid's Music University lectures will be accompanied by workshops for teachers, where suggestions for the implementation of the respective topic in the music class will be presented. And the final high-point: a shared concert for all registered school classes whose teachers have taken part in the project.
Registration for the teaching workshop is via the JGU Center for Continuing Education. For further information, please click on the link in the right-hand column.
The Kids' Music University of the Mainz School of Music is a project organized within the scope of Baroque Vocal – College for Old Music at the Mainz School of Music.